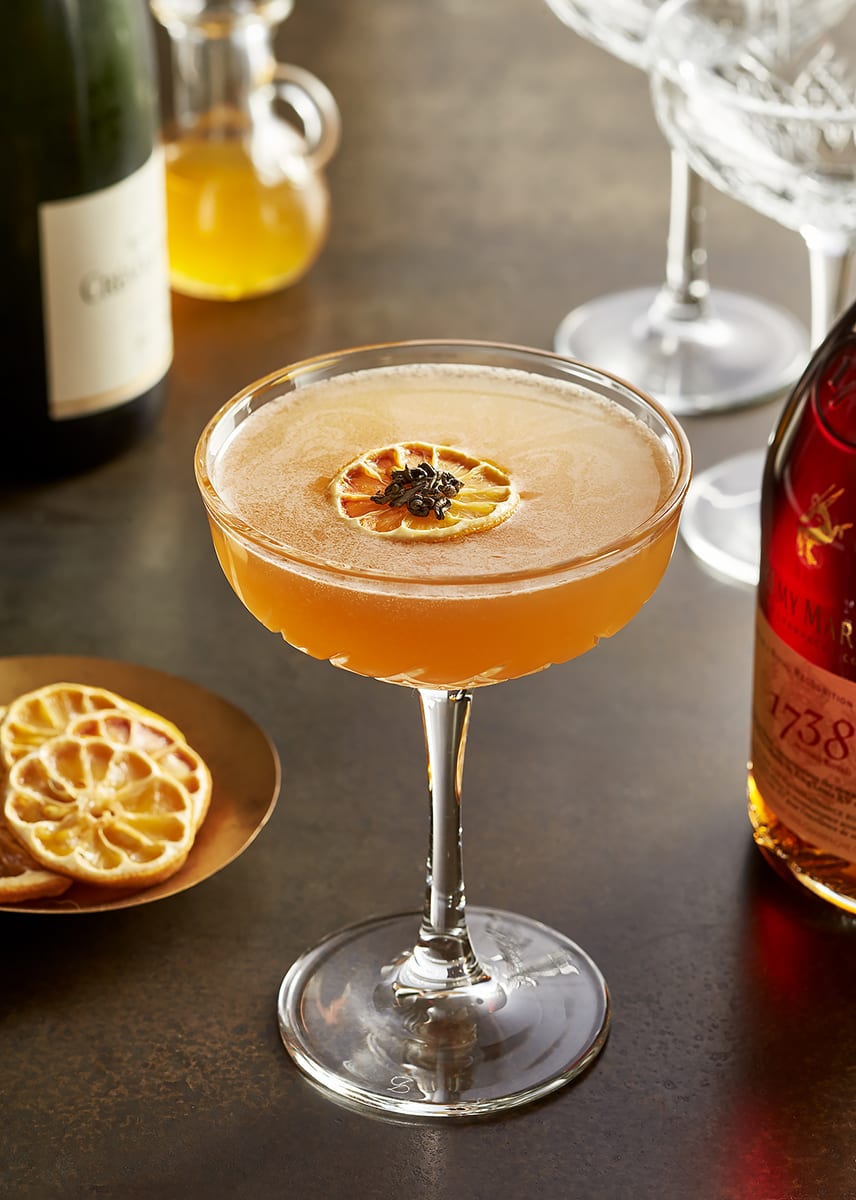 June 4 is National Cognac Day, and to celebrate, we asked three bartenders to create modern renditions of the classic French 75.
If classic cocktails were a play, Cognac would be its lead character," says New Orleans bartender Chris Hannah, who mixed countless French 75s during his long tenure at Arnaud's French 75 Bar and can now be found pouring them at Jewel of the South. "The first sugar-rimmed cocktail was made with Cognac, the first Pousse Café as well, and similar can be said for Cognac's popularity in Juleps. The first Old Fashioned with a name and the Sazerac were made with Cognac. Even back when classic cocktails were just cocktails, bartenders made their own riffs on them using Cognac, such as the Brandy Alexander."
And, of course, Hannah points out, the original French 75 was Cognac-based. "What has always inspired me as a bartender was to helm the French 75 bar just before the cocktail resurgence with the cheeky knowledge that the French 75 wasn't actually first made with gin, yet still being told I was making them wrong," says Hannah. "Shrugging all that off during my tenure at the French 75 Bar, further professing my belief in the Cognac heritage of the French 75, was a privilege."
June 4 marks National Cognac Day, and in honor of the French spirit's enduring place in the classic and contemporary cocktail canon, we asked Hannah, along with Austin bartender and Daijoubu Pop-up co-founder Sharon Yeung and Phoenix beverage director Mat Snapp, to create modern renditions of the French 75, using a rich base of Rémy Martin Cognac. "I love mixing with Cognac because I personally feel like it's underutilized in cocktail-making," says Yeung. "Sure, it's tasty as a sipper, but it can also shine in drinks. Its versatility to create light to booze-forward cocktails and upholding the depth of complexity is my favorite thing about using this spirit."
That depth and complexity is what also draws Snapp to the spirit. "When crafting cocktails, you need balance of ingredients," he says. "Using an expressive Cognac not only gives you elements of oak and dried fruit, but also carries some of the weight for sweetness, meaning less additions of sugar, agave, honey, port, etc. I love working with Cognac, and I enjoy allowing guests who are new to the spirit to experience it in a way they hadn't considered."
BRAND NEW ANTIQUEMat Snapp reached for a gunpowder green tea to add a layer of smokiness to his French 75 riff.
L'EMINENT FIGChris Hannah adds layers of richness to the classic by bringing fig jam and black tea into the mix.
BIEN-AIMÉEFor this desserty twist on the classic, Sharon Yeung was inspired by the combination of chocolate and raspberries.
THE RÉMY 75Make your next French 75 extra special with the exceptionally smooth Rémy Martin 1738.